"US Freight – Trucking, Rail, all of it – Goes to Heck
Transportation is a gauge into how well the real economy is doing. And it just keeps getting worse.
In October, the number of freight shipments in North America fell from September, in line with the patterns of the past few years, but it fell more sharply than before. And year-over-year, shipments dropped 5.3% to hit the worst level for October since 2011...
This month's decline was much sharper than in recent years and can be directly correlated to falling imports and exports as well as decreased domestic manufacturing levels. Burdened by bloated inventories...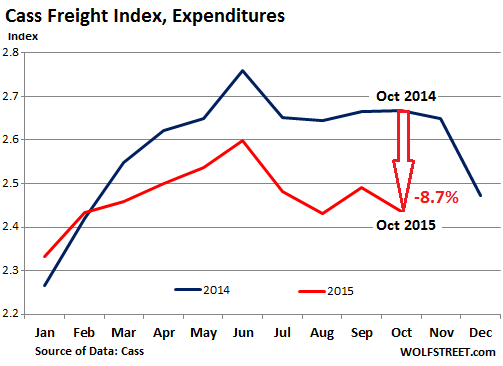 Macy's was the latest retailer to confirm why transportation is having a hard time: revenues dropped 5% as earnings plunged 46% in the quarter ended October 31. While at it, it lowered guidance for the year, with sales at stores open at least one year declining 1.8% to 2.2%.
"I own a fleet of 15 trucks that go on the road delivering all kinds of freight, and I can tell you it's extremely slow. This should be our busiest season for the 4th quarter but it feels like it's January."...
"I take an annual train trip to Reno, NV. One of the stops is Grand Junction Colorado. Normally this is a mostly abandoned very large train yard. This year I was surprised to see hundreds of idled Union Pacific locomotives as far as the eye could see."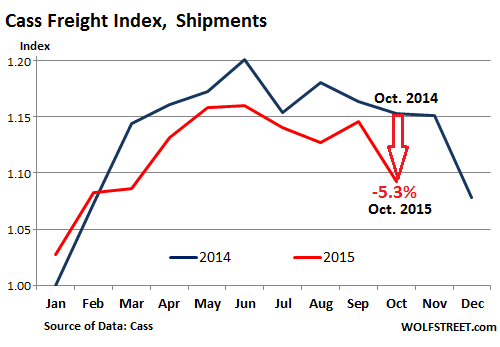 ...Inventory levels remain a looming problem as the Federal Reserve has been actively hinting that an interest rate hike is very possible in December. The combination of record inventory levels and an interest rate increase will cause a significant hike in inventory carrying costs. This will most likely drive a drawdown much like the one we saw in 2009 and 2010.
http://wolfstreet.com/2015/11/12/us-freight-plummets-worst-october-since-2011/
.
.
Moody's Warns about Credit Crunch, Unnerves with Parallels to 2008!
The US bond market has swollen to $40 trillion. Over $8 trillion are corporate bonds, up a mind-boggling 50% from when the Fed unleashed its zero-interest-rate policy and QE seven years ago.
Much of it is being used to pay for dividends, stock buybacks, M&A, and other worthy financial engineering projects designed to inflate stock prices, though that strategy has turned into a sorry dud this year.
Junk bonds now make up $1.8 trillion of this pile of corporate debt, nearly double the $944 billion in junk bonds outstanding at the end of 2008 before the Fed saved the economy, so to speak.
Among investment-grade bonds, the ratio is even more terrible: 1 upgrade and 11 downgrades. "A convincing negative trend may be emerging,"
"Given the surge in the number of downgrades, plunging upgrades, and the likelihood of significantly more defaults," the all-important spread between the yields of junk bonds to US Treasuries is likely to widen, especially given last quarter's "decidedly subpar showings by business sales and operating profits."
The Fed reported in its quarterly Senior Loan Officer Opinion Survey of October that banks have begun to tighten lending standards on commercial and industrial loans – the first tightening after three years of loosening lending standards, and after tightening throughout the Financial Crisis.
But the last two times when lending standards switched from loosening to tightening to a similar degree, according to Moody's, was in, well, the infamous Q3 2007 and Q4 1998.
We know what came after both occasions. Only this time, the pile of debt is far larger, and the risks – thanks to the Fed's ingenious policies that have encouraged all this – far greater.
http://wolfstreet.com/2015/11/13/moodys-warns-about-looming-credit-crunch-unnerves-with-comparisons-to-2008-2009/
.
.
"The Association of American Railroads (AAR) today reported U.S. rail traffic for the week ending Nov. 7, 2015.
For this week, total U.S. weekly rail traffic was 539,165 carloads and intermodal units, down 5.2 percent compared with the same week last year.
Total carloads for the week ending Nov. 7 were 272,063 carloads, down 8.7 percent compared with the same week in 2014, while U.S. weekly intermodal volume was 267,102 containers and trailers, down 1.5 percent compared to 2014."
https://www.aar.org/newsandevents/Press-Releases/Pages/2015-11-11-railtraffic.aspx
https://www.aar.org/newsandevents/Freight-Rail-Traffic/Documents/2015-11-11-railtraffic.pdf
2/21/14
Rail Traffic is a Leading Economic Indicator
http://hartzman.blogspot.com/2014/02/rail-traffic-is-leading-economic.html
3/11/15
China Rail Freight, Year over Year, = Worse than 2008 - 2009
http://hartzman.blogspot.com/2015/03/china-rail-freight-year-over-year-worse.html
And then the world's Central Banks
12/27/13
Which reality would you prefer? Rail traffic edition
http://hartzman.blogspot.com/2013/12/which-reality-would-you-prefer-rail.html
12/14/13
Rail Traffic down 15.2% vs same week in 2012; The global economy is slowing...
http://hartzman.blogspot.com/2013/12/rail-traffic-down-152-vs-same-month-in.html
And then the world's Central Banks
5/21/13
Air Cargo Volume Growth, Industrial Production, Chemical Volume Growth and Rail Traffic
http://hartzman.blogspot.com/2013/05/air-cargo-volume-growth-industrial.html
And then the world's Central Banks